Water Treatment/Detention

Rain Gardens

Infiltration technique to capture runoff and reduce nonpoint source pollution

Water Quality Treatment/Detention
Determine Your Hydrologic Soil Group with a soil test - Your soil may be clay and not drain properly for a rain garden. Some soils can be altered to allow a rain garden.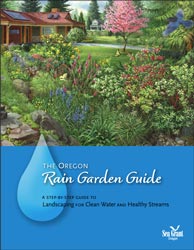 "The Oregon Rain Garden Guide: Landscaping for Clean Water and Healthy Streams," a 44-page illustrated guide, was written by Robert Emanuel and Derek Godwin from OSU Sea Grant and Candace Stoughton, who works for the East Multnomah Soil and Water Conservation District. It can be found online download pdf or ordered by calling OSU Sea Grant Communications at 541-737-4849. Copies are $4.95 each, plus shipping & handling. - http://extension.oregonstate.edu/news/
Rain Gardens
Rain gardens are landscaped areas designed to capture and treat stormwater runoff from rooftops, driveways, roads, sidewalks and compacted areas of land. These gardens are shaped like depressions in the ground and have well-drained soils that capture and treat runoff with the vegetation, soil and microbes in the garden. Oregon State University Extension Water and Watershed Education - http://extension.oregonstate.edu/watershed/rain-gardens

Why build a rain garden?
When a landscape is covered in natural vegetation, most rainfall soaks into the ground. As we start adding roofs, driveways, sidewalks, and streets to the landscape, much of the rainfall can't soak into the ground anymore. This can create a lot of problems for people and for our streams. Rain gardens hold stormwater runoff and allow it to soak into the ground naturally. This helps reduce the amount of pollution that gets into our streams. East Multnomah Soil and Water Conservation District - http://www.emswcd.org/raingarden

A rain garden is a sunken, generally flat-bottomed garden bed that collects and treats stormwater runoff from rooftops, driveways, sidewalks, parking lots, and streets.
Rain gardens keep our watersheds healthy by...
• reducing flooding by absorbing rain water from hard surfaces
• filtering oil, grease, and toxic materials before they can pollute streams, lakes, and bays
• recharging groundwater aquifers by allowing water to soak into the ground
• providing beneficial wildlife habitat

The PADL Annual Meeting on Saturday, June 23, 2007 featured Rain Gardens.
The speaker was Ken Hobson from the Lincoln Soil and Water Conservation District.
The Salem area Soil and Water Conservation District holds a free class about Rain Gardens, and if there is interest PADL may organize a class. PADL helped with funding for construction of a demonstration rain garden by the City of Lincoln City at Voris Field near Taft High School. Both Tillamook and Marion Counties offer classes in Rain Gardens.


Rain gardens are a way for homeowners as well as businesses to participate in the reduction of polluted runoff, simply by planting a specialized garden. Rain Gardens are an infiltration technique - water is captured in a garden that features native plantings, and the water has a chance to slowly filter into the ground rather than run off into the storm sewer. It is a popular way to reduce nonpoint source pollution and has been popular along the East Coast for a number of years.
http://dnr.wi.gov/runoff/rg/index.htm

- Rain Gardens - www.raingardens.org
- Rain Garden Network - www.raingardennetwork.com/
Contains all the information for planning and building a rain garden
- Rain Garden on Wikipedia - http://en.wikipedia.org/wiki/Rain_gardens
Gives the history and reasons for a rain garden
- U.S. Department of Agriculture - Natural Resources Conservation Service
www.ct.nrcs.usda.gov/rain-garden_tac.html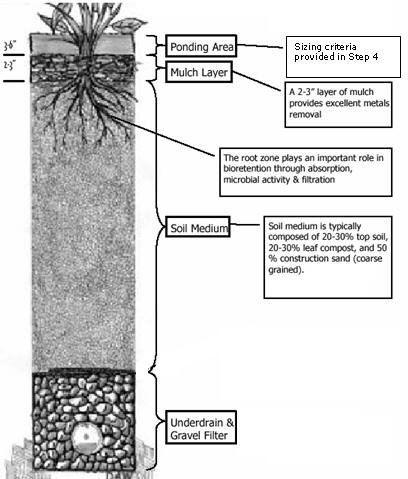 Cities, Soil and Water Conservation Districts, and organizations are promoting rain gardens
Several manuals are available from other states - use plants native to our area
Oregon State
Oregon Convention Center (David Evans & Associates) - www.deainc.com/project
Oregon Convention Center - Portland Online - www.portlandonline.com/BES
Mt. Tabor Middle School - a green school project award, 4,000 square feet of asphalt parking area transformed in 59 days to a rain garden.
Tillamook County: April, 2007, OSU extension Rain Gardens to Improve Water Quality: Robert Emanuel, Water Resources and Community Development, OSU Sea Grant Extension Faculty. Tillamook County is blessed with over 80 inches of rain a year. Most of that rain ends up in our rivers, estuaries, and bays picking up and transporting pollution from homes, businesses and farms into these waterways. You can help reduce this type of pollution by gardening. A rain garden is a shallow depression filled with flood tolerant shrubs, flowers and grasses. It functions to collect and filter stormwater runoff before it runs into our watersheds while adding beauty to your landscape. Come learn what a rain garden is, how it works, and how you can build one easily at home.
Marion County: Marion Soil and Water Conservation offered a class in Rain Gardens in 2007.
East Multnomah County Soil and Water Conservation: rain garden brochure and website www.emswcd.org/raingarden
WestCoast Natives - Ryan Gorretta, founder and owner, specializes in propagating plant material, collecting native seed, and designing rain gardens - PO Box 43, Sherwood, OR 97140 Phone: 503-628-1667 (office), 503-793-1886 (cell), 503-628-3818 (fax) http://pcartsonline.com/westcoastnatives/rain-gardens

Wisconsin State
- Wisconsin Department of Natural Resources
Lots of great information on rain gardens, a How-To Manual, and native plant lists
http://dnr.wi.gov/runoff/rg/index.htm
- Madison, Wisconsin - 1,000 Rain Gardens
www.cityofmadison.com/engineering/stormwater/raingardens/1000raingardens.cfm
- Dane County Lakes and Watershed Commission, Wisconsin
A 2-page brochure titled "How to Build a Rain Garden" (pdf file)
www.danewaters.com/private/raingarden.aspx
- University of Wisconsin Extension
http://basineducation.uwex.edu/rockriver/rgCommunity.cfm
UW-Extension (small brochure)
Brochure titled "Rain Gardens: A household way to improve water quality in your community" (8 pgs, pdf file)
UW-Extension (large brochure) - "A How-To Manual for Homeowners" (32 pgs, pdf file)
- Sue's Rules for Rain Gardens
A helpful website including instructions on designing, constructing, planting, and maintaining a rain garden
http://sueellingson.com/raingardens/

Other States and Organizations
- The 10,000 Rain Gardens Field of Interest fund--called Garden Angels--is with the Greater Kansas City Community Foundation. - www.rainkc.com/
- Cayuga Water and Conservation District, New York - download pdf
www.cayugalake.org/resources/raingarden.php
- Izaac Walton League of America - Outdoor America magazine - download pdf
- King County in Washington State - list of shoreline plants - download pdf
- Blue Thumb (in Oklahoma)- www.ok.gov/conservation
- Minnesota - The Blue Thumb program was started by the Rice Creek Watershed District as an outreach program to meet water quality goals identified in their strategic plan and to help their cities meet their federal Clean Water Act mandates. Now Blue Thumb reaches beyond the Rice Creek Watershed District boundaries into the Twin Cities metro area and greater Minnesota. There are currently over 60 Blue Thumb partners. www.bluethumb.org/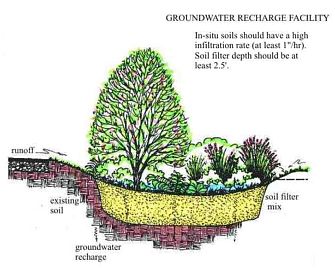 - Low Impact Development for Schools - Sustainable School Projects Website
This module has been developed through a Cooperative Assistance Agreement under the US EPA Office of Water 104b(3) Program in order to provide guidance to administrators, teachers, students, and parents for developing, administering, and incorporating Low Impact Development (LID) into their school community.
www.lowimpactdevelopment.org/school/index.html

Illustrations: Low Impact Development for Schools
Home

Blue Green Thumb Watershed Education Program -
A program of the Preservation Association of Devils Lake (PADL)
Copyright © 2003-2010 Preservation Association of Devils Lake (PADL)
All rights reserved.


P.O. Box 36
Lincoln City, OR 97367
PADLsteward@wcn.net
www.devilslakeor.us